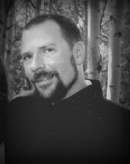 Tyler Rock graduated with distinction from the glass program at the Alberta College of Art in 1989. Immediately after graduation, Tyler and four other artists set up the artist co-op studio, "Bhava Cool Hot Glass" which ran in Calgary until 1994.
In 1995 Tyler began teaching glass at the Alberta College of Art and Design, and at the "Series" summer program at Red Deer College. At this time he also co-founded and set up the glass studio in Calgary called "Normís Garage."
Tyler has studied, worked, and collaborated with other artists in Canada the United States and Europe. He has worked at the Pilchuk Glass School in Washington State and was a participant in the International Glass Festival in Palau Del Vidre, France. Recently Tyler and artist Julia Reimer worked collaboratively as resident artists at "The Studio" at the Corning Museum of Glass in Corning, New York.
Tylerís work can be found in galleries across Canada and the United States. In 2002 his work received recognition from the Alberta College of Art and Design, the Alberta Foundation for the Arts, the Canada Council and the Glass Art Association of Canada.