---
The name behind the gallery ...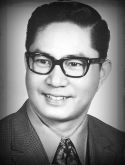 Stephen Lowe
(1938 - 1975)
Born in China, Stephen Lowe (Liu Yunheng) displayed a natural inclination toward art, poetry and music at an early age. While in his teens, Stephen enrolled at the Lingnan School of Art in Hong Kong, acclaimed at the time as the leading school of modern Chinese art. Under the direction of Professor Zhao Shaoang, a master artist from China, Stephen formed a solid basis for his artistic technique founded on Chinese tradition and his love for the natural beauty of the country. He eventually immigrated to Canada and from his art studio in Victoria, shared his vision of China with people from all over the world through his delicate and sensitive watercolour interpretations of flowers, birds and landscapes.
During his short life, he held 23 one-man shows, including exhibitions at the Provincial Museum of British Columbia and at the United Nations in New York. In addition, Stephen taught at the Art Gallery of Greater Victoria and privately for many years and, on occasion, at the University of Victoria. In 1970 Stephen and his wife Eunice were invited by the Empress Hotel in Victoria to open their first gallery. Four years after Stephen's untimely passing, Eunice and her family carried on his legacy to Calgary by opening the second Stephen Lowe Art Gallery in 1979 where it has flourished under the directorship of their eldest daughter Anna and her husband Allen.
In 1985, the government of China invited and sponsored a memorial exhibition of his work, which toured four major cities in China including the National Gallery in Beijing, Nanjing, Shanghai and Guangzhou until 1986. The shows received critical acclaim across the country.
Through the legacy of his art and the memories of those who knew and loved him, the remembrance of a great artist and gentle soul will live forever.
Anna Lowe Lam and Allen Lam, and their associates, have developed Calgary's Stephen Lowe Art Gallery from specializing in Asian fine art to representing distinguished artists from across Canada. Featuring outstanding original oils, acrylics, and watercolours, the gallery also displays an impressive collection of art glass, ceramics, metal and stone sculpture.
Today the Stephen Lowe Art Gallery is proud to bring art lovers the finest in traditional and contemporary fine art. Visit our gallery located downtown, in Bow Valley Square. Our staff is friendly, knowledgeable and experienced.