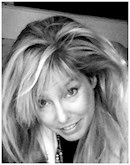 The richly textured terrain of Joanne Gauthier's paintings sends the viewer on a visual journey. Gauthier's floral compositions invite us to take delight in exploring the entire surface of the canvas. To a great extent, this is due to the sculptural quality of each painting.
The three-dimensional characteristic of Gauthier's work is attained by her choice of materials. Gauthier transforms each new canvas by first spreading a layer of acrylic paste on to which she engraves her relief. The engraved work is then enriched with oil paint, applied directly to the canvas in deep hues and saturated colours. The application of copper, silver, and gold leaf provides the finishing touch on Gauthier's paintings, highlighting the curvilinear designs of her engraved images.
Gauthier's choice of technique and colour add density to each piece, making it a visual anchor that draws in the observer. Her subject matter, however, pulses with freshness and spontaneity. Gauthier's vibrant floral motifs are imbued with a sense of life and rhythm that overcomes stillness. The dynamic and flowing designs draw on the creative currents which are characteristic of Art Nouveau. Yet, the artist's ability to capture the emotional spirit of the natural world allows for a delicate balance to be achieved between the organic and the highly stylized interpretation of her subject matter.
Gauthier, born in Trois-Rivierès Ouest, Québec, has long known that she would become a professional artist. After attaining formal training in the fine arts and education at Cégep de Trois-Rivières and Université du Québec à Trois-Rivières, Gauthier taught visual arts for eight years. Presently, she is a full-time artist concentrating on her passion. To date, Gauthier has taken part in numerous solo and group exhibitions in galleries found across Canada.