Hiking adventures... wild life encounters... tips on juggling paint and wine ...
Join us for an evening of tales and tips to inspire the inner painter in you as Cameron and David lead us through their creative process for our next ArtTalk ticketed event.
This fun and relaxed evening starts with an artist-led tour through their new collection of paintings. Cameron and David will share inspirations and origins of selected works as you enjoy wine and appetizers created by Dale Cox, Executive Chef of the Bow Valley Club. Following the ArtChat, you will go upstairs to the Bow Valley Club, roll up your sleeves, and with step-by-step instruction from Cameron and David, learn to paint your very own masterpiece... even if you've never painted before.
Availability is limited so call early to purchase your tickets for this fabulous evening! Tickets are non-refundable.
Exhibition runs from May 10 - 24, 2018.
Cameron Bird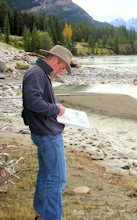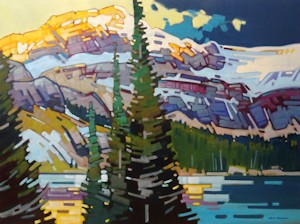 Formally trained at the Emily Carr College of Art, Cameron began researching many great artists including those of The Group of Seven which inspired Cameron to eventually pursue a career in the fine arts.
Having traveled throughout much of western North America, Cameron has gathered reference material for his paintings by sketching on location. Images are captured first by crayon or pencil before completing the actual studio painting in oil. When time and climate allows, Cameron will paint small studies in oil, on site, whether he is hiking on mountain trails or fishing the various lakes and rivers.
In 1989, Cameron met Canadian artist K. C. Smith, who over the next ten years became a great teacher and friend. Keith taught Cameron the use of heavy impasto and bold color. He was also instrumental in teaching him how to simplify his work and "make each and every brush stroke count for many". Following in Keith's footsteps, he worked as a pack-horse guide in the Chilcotin Mountains. This experience gave Cameron many opportunities to develop his skills as an en plein air artist. Prior to Keith's death in 2000, Keith wrote a letter to Cameron asking him to "...carry on where I have left off in this wonderful world of art and creation."
To date Cameron has participated in many solo and group shows with private and corporate collectors from Europe, Australia, China and North America. Working as a full-time professional artist, Cameron continues to capture and explore the Canadian landscape with his powerful and vibrant oils.
David Langevin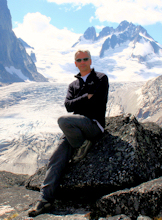 David Langevin's dramatic renditions of the Canadian wilderness and his bold "tree portraits" have become almost as familiar as the subject they depict.
David Langevin is a modern day Old Master - an impeccable craftsman, an innate talent. "When I looked at the paintings of the Old Masters I saw in their work something that I did not see in modern art. Nothing in my education or experience as a painter could help me understand how they achieved the effects that they did. I wanted that. I wanted to know I could achieve any effect that I could imagine. I wanted complete expressive freedom..."
After finishing his Bachelor of Fine Arts degree at the University of Ottawa, David spent several years perfecting his painting skills. He pored over old texts, treatises, and manuscripts stored in the backrooms of art restoration departments and libraries reserved for conservationists. David obtained a Masters in Art Education degree from McGill University, specializing in methods and materials for the painter.
Since 1992, he has been living in British Columbia where he finds an endless supply of inspiration for his art. David gives lectures, writes a regular technical column for painters, consults, and conducts workshops on painting materials and techniques. His paintings are sold in galleries across Canada.