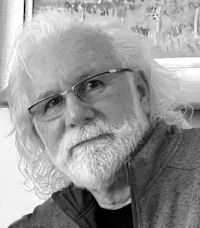 Paul Garbett
Paul worked in the design and branding field for decades, designing and illustrating for studios in Toronto. The honours graduate of the Ontario College of Art and Design -- now called OCAD University --started out as an illustrator, creating work for magazines, agencies and corporations and then eventually opened his own design studio.
"I've always been a creative individual," he says. "I enjoy projects that allowed me to create with my hands, whether it's through painting, sculpture or video."
Paul has always loved expressing himself through painting and drawing The desire became too strong to ignore so by the age of 50 he decided it was time to make a change. While renovating a house in Toronto, he took the first step in his career shift by building an art studio in his backyard. No sooner had he hammered in the last nail to finish the renovation, he decided to put the house on the market and make the move to Muskoka, Ontario. This was necessary he believed for the transition to a full time artist. He reasoned the inspiration and focus needed would come from living in the north and would move things along quicker as he wasn't getting any younger.
He purchased a home/studio on a beautiful wild river that has a wonderful view of a majestic waterfall. It's a place he loves because of the solitude as well as the abundant wildlife. Moose, bear, wolves and deer are frequent visitors, like the day he was working on a painting of a bear and a bear walked by his window, heading to the apple tree near his house. Lots of hiking, biking, canoeing and kayaking on the many trails, rivers and lakes give him abundant reference for his wildlife and landscape art.
Paul paints using the encaustic medium that was first used during the Egyptian era. The encaustic medium is essentially hot wax combined with pigment. This choice of medium was inspired by the work of Tony Scherman. "I had seen his work in books and magazines but it was a show in Toronto that hooked me on that approach, it blew me away. His masterful use of encaustic allowed it's characteristics to shine through. Luminescent but wonderfully textural. The way light was expressed was the most alluring quality".
Paul uses microcrystalline as his encaustic medium which has a higher melting temperature than beeswax so it is more pliable allowing for more time to mold, scrape and shape. Also, because it's less brittle than bees wax it ships better. The choice of mixing oil paint with wax rather than powdered pigments avoids any further hazardous ventilation issues.
A hot plate keeps the pots of encaustic paint warm and liquid, but too much heat burns the wax. Burned wax emits toxins. So, the temperature is important and the room needs good ventilation - just in case. A propane torch or heat gun is used to 'burn in' each layer of wax paint, fusing layer upon layer. But too much heat can burn through many layers and ruin the painting. The artist has to work fast, brushing the encaustic paint onto the surface before the wax dries, and it dries frustratingly quickly.
"Really my work is a aggregation of mistakes" he says. "It's like an archeology of layers that I can dig down and discover new colours and create new textures. Immediacy is what I like - unlike painting with oils where there is drying time" he explains.
"With wildlife and our natural environments disappearing at astonishing rates, it's important that we all take notice and do what we can to help. I have a need to express what these animals are about and how important they are to all of us. My focus in future will be to paint while bringing awareness to wildlife and nature in a way that supports their needs. Hopefully when my grandkids are my age they will be enjoying the large animals not only in my paintings but outside roaming amongst our beautiful forests."
Paul can be found currently building another studio further north, not far from the oldest provincial park in Canada, Algonquin Provincial Park. "No I do not consider building studio's a creative endeavour. It will be my last."
ARTIST STATEMENT

   
"Inspired by nature and captivated by human nature, I paint to capture the true essence of anything that stirs the soul while drawing attention to the incredible beauty that surrounds us and is within us. I believe that art is a form of therapy and can provide insight if not solutions to many of life's problems. It will be this belief that will fuel my ideas and exploration in my journey as an artist."