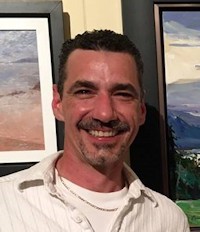 A resident of L'Anse Saint-Jean in Quebec, Marc Grandbois began painting at a very young age alongside his mother who was also a painter. He completed his Fine Arts Degree at Concordia University in 1991 and rapidly gained notoriety as a watercolour painter between 1992 and 2002, as well as teaching painting and drawing. He has also participated in numerous painting events and exhibitions throughout Quebec and the United States.
In 2010, he left the Mauricie for the Saguenay. The exceptional beauty of the landscape and the unique environment of the fjord motivated this decision and triggered a return to his first passion - painting. The Nordic landscape has always been a source of inspiration. His work is characterized by beautiful atmospheric qualities, and impressionistic casual brushstrokes with rich colours. His palette, sometimes subtle, moves towards a fauvism approach and adjusts to suit the ambiences he wants to create. "I firmly believe that figurative art, especially the landscape, remains very current if it transcends the narrative, and in a way becomes a basis for experimenting with gestures, color and light."
Marc Grandbois's works are found in public and private collections in Canada and abroad.