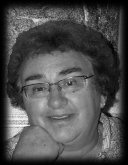 Born in Montreal (1947), Louise Falstrault has been a resident of La Petite-Nation (Outaouais-Laurentides region, near Montebello) since 1969. She is self-taught artist who has started painting at 12 years old when her father gave her a paint and brush set. In 1995, she decided to devote all her time to painting. She participated in many solo and group exhibitions and regional symposiums. She was invited to be part of the renowned Symposium of Baie-Comeau and received awards and prizes for her works.
Louise is actively promoting visual arts and is a member of many associations. In 2007, she organized, with other artists, the eleventh Studio Tour of Montebello area.
"I paint everything I like." she says. Louise often gets her inspiration from her travels, from the Georgian Bay, Newfoundland, New England to the Rocky Mountains. The imageries of her experience are recorded in her paintings. Her emotions are revealed by the strong contrast and the intensity of the colours so skilfully applied using brushes and knives.
Wind, water, mountain and forest all live inside me. My painting is a long journey in the depths of nature with some forays in the inhabited world. It enables me to go back to the landscape in complete freedom, to see its grandness, its peacefulness and its wild beauties.
Louise's works are collected in Europe, United States and Canada.